Top 5 Wedding Trends – Using Lighting to Complement your Theme
Oakwood Events Blog Post
Here are our top tips for what's hot this year and how to use lighting to make the most of your style. Whether you're a rustic, elegant or country bride colour, sparkle and texture are in so be bold and think big!
Roaring 20′s
Think feathers and flapper girls; big band dancing, crystal candlesticks and gold-rimmed china. The roaring 20′s will be providing wedding inspiration this year with a nod to the Gatsbian era of elegant indulgence; champagne and starlight. The era was all about glamour and opulence so think big! For lighting, luxurious fabric drapes could be hung with crystal chandeliers and giant canopies of sparkling fairy lights. Garden parties at night can be made magical with festoon lights hanging overhead and bud lighting balls floating like stars.
For an edgy twist on this theme, think Hollywood – with bold black chandeliers, monochrome schemes, glitter fabrics and ice white fairy lights.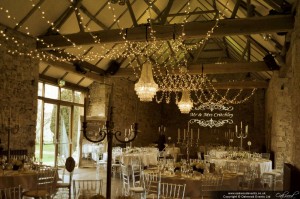 20′s Style Wedding Lighting
Understated Elegance
The vintage charm of hand-made lace has grown in popularity ever since the royal wedding. It's the vintage trend, all grown up! Leave bunting and jam jars behind and go from vintage to antique. We're seeing lace and crystal themes in wedding gowns, table fabrics, centrepieces and bridesmaid dresses. Our new white lace lanterns add a touch of understated elegance to our lantern canopies and for some serious gorgeousness, we can hang lace curtains from barn beams to frame relaxed cross-canopies of lights. For simple charm, white/ivory vintage chandeliers hung low would complement any antique scheme – be brave and hang them low in a line over your top table for incredible photographs.
If you're feeling bold, add touches of coral, latte and deep antique gold – pom poms are a great way to do this as they complement the elegant, floaty feel of lace beautifully.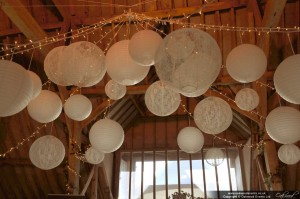 Paper and Lace Lanterns
Fun, fun, fun!
Ribbons are going to be very popular this year and are tied up with the fabulous multi-colour trend. We're seeing them hung from ceilings, trees or from chairs in mixed pastel, coral or rainbow colours. We've spotted them in the high end wedding shoots done with lace in the antique theme, but they're predominately a more rustic, home-spun wedding trend. Clustered together with festoon lights they create an atmosphere of warmth and fun. They can also be used to create an entire backdrop for photographs or as a curtain to separate areas of your wedding venue. A touch of colour could be just the thing to liven up a bland wall or feature. Mix 5 or more bold colours (think rainbow!) for summer weddings, or soften it down for spring and autumn with a gentler palette of mixed pastels like mint, lavender, lemon, baby pink and white.
For brides who love making personal touches, ribbons are easy to add to favours, chair backs and table settings. To incorporate them in a bigger way, ribbon canopies in rainbow colours look amazing in barns with fairy lights interspersed or personalise a lantern canopy with tutti-frutti mixed colour lanterns with ribbons hanging from each one.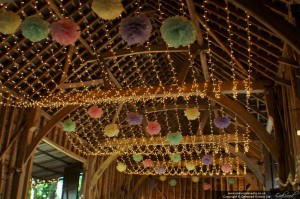 Fairy Lights and Pom Poms
Italian Chic
Italian weddings are loaded with romance and the fresh, natural palette of this beautiful country is easy to emulate, even if the sunshine isn't! Imagine stone, wooden beams, terracotta and whitewashed walls with a splash of colour. Bring in pom poms or ribbons for a relaxed, fun feel and think traditional in the details; with pretty centrepieces and informal seating; pick up coral, peach and pink in your colour scheme. For summer weddings, use mints and turquoises for a fresh, coastal feel. To recreate the Italian atmosphere, use lots of candlelight, make the most of your outdoor space with fairy lit trees, overhead festoon canopies or lanterns and opt for chic not shabby.
From candlelit ceremonies to receptions lit by large chandeliers, this beautiful trend is perfect blend of traditional and modern and is easy to personalise.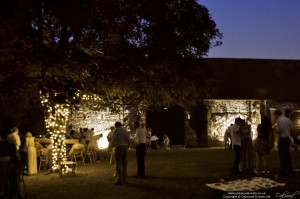 Outdoor Wedding Lighting
Rustic
With barns ever-popular, the rustic trend is going to be around for a long time yet but it's moving from the village fete theme of last year to hippie charm with a grown up slant. Think hay bales, bare-foot brides, butterflies and lots of lights. Festoon lights are functional and stylish giving a lovely warm, well distributed light to your venue and a perfect style match for tipis, marquees and barns especially for a summer of love feel. Inside they can create a spectacular ceiling canopy and can work well with paper lanterns as a way to bring in colour. Outside they can be strung between trees to create an intimate space for your guests to mingle after dark or used to line pathways between the venue and a marquee. Rustic trends are all about blending the inside with outside, so aim for consistent lighting to keep the theme running and make guests feel comfortable drifting between the two.
For a unique twist, festoon bulbs could be hung individually in clusters to highlight a feature such as a seating area or a gift table, or hung as a curtain on a stone wall. Trending at the moment are giant letters or words lit with festoon bulbs to really personalise your day.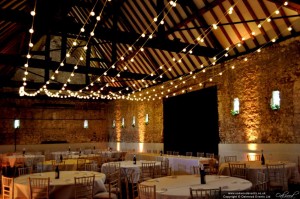 Wedding Festoon Lights in a Barn
---
Related posts: