Caswell House Fairy Light Backdrop
Oakwood Events Blog Post
At the risk of stating the obvious, we love fairy lights!
What better way to highlight your wedding ceremony than by filling the entire back wall with lots of pretty, sparkly lights?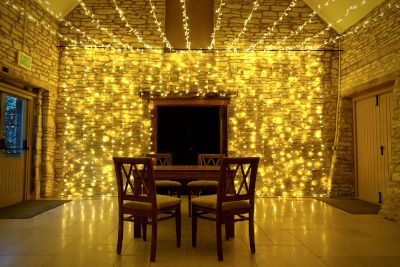 Fairy Light Backdrop Behind Ceremony Table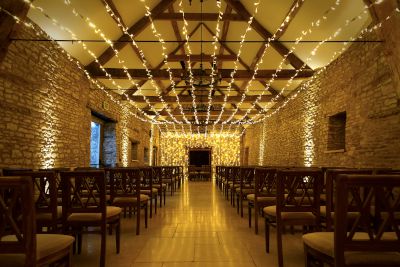 Shown with Multiswag Canopy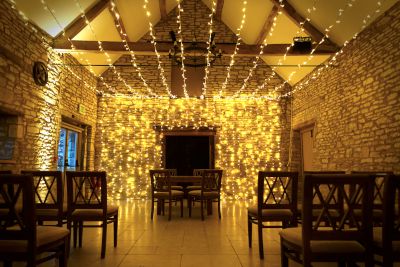 Caswell House Fairy Light Backdrop
The area at the end of Wenman's Barn (the largest barn) at Caswell House is normally where the wedding ceremony is held. The same area is then used again for the band or disco in the evening. A wall of fairy lights makes a stunning backdrop to both!
The great thing about the backdrop is that it can be combined with other lighting such as an overhead canopy for a really dramatic effect. In this case it's shown with a multiswag fairy light canopy which is a popular combination as the backdrop continues the neat lines of the canopy down the wall.
There are so many lights that they actually illuminate the end of the barn with a flattering, golden light. As with most of our fairy lights they can be dimmed if required and they even come with an optional twinkle mode to add an extra dimension to the mood in the evening!
Why not take a look at our other lighting services at Caswell House or get in touch to request a brochure?
---
Related posts: