Uplighter Hire for Weddings & Events
One of the most versatile lighting techniques, uplighting is the perfect way to set the mood for your event and is the ideal complement to other forms of lighting such as fairy lights or paper lanterns by providing soft, fill-in light around the room to create an inviting, intimate atmosphere.
The lights can be wired or wireless, static (single colour) or dynamic (remotely controlled to change colours at different times of day). One of the simplest and most effective methods of changing the mood of a room is to change the colour of the lights, perfect for transforming a room from subtle sophistication during the day to party mode at night.
Colour Choices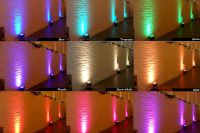 Our LED uplighters are capable of producing a staggering range of colours including delicate pastels, soft warm whites and golds, bold colours and even ultraviolet.
For sophisticated lighting during the day or when they're being used alongside other types of lighting, especially fairy lights or festoons, we recommend choosing a soft gold colour as it's a great match for the colour of the fairy or festoon lights and really brings the room to life with a warm, even glow.
For a bolder effect, choose a colour that works with your overall colour scheme to create large plumes of coloured light on the walls of the venue. A few coloured units can also be used to differentiate a specific area, for example as a chill-out area in the evening.
Around the dance floor, coloured uplighters really enhance the atmosphere and can even be set to a synchronised colour-changing sequence for a full room disco effect.
Wired or Wireless?
We have both wired and wireless uplighters available and will be happy to recommend which are best suited to your event.
Where power supplies are plentiful, wired units are quick to install and simple to operate. However if fewer sockets are available or positioned less conveniently then wireless units may be better to avoid long runs of cable around the edges of the venue.
Our wireless LED uplighters will run all day from a single charge and are supplied with an easy to use controller that enables you to change the colour at different times of day and to dim the lights as required.
Day to Night Transformation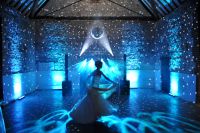 One of the most compelling reasons to use uplighting it its ability to transform the mood of a room at the touch of a button.
During the day, a warm white or gold light will blend in perfectly with any other lighting such as a fairy light canopy to create a cosy, warm atmosphere.
Then switch to a colour of choice as a stunning backdrop for the photos of your first dance, followed by a synchronised colour-changing sequence for the evening's dancing.
Professional Installation
We've built up a lot of experience installing lighting in many of the most prestigious wedding venues. We select the most appropriate equipment and installation methods for each event and always respect the buildings in which we work. We use only temporary, non-damaging fixings, taking care to consider power requirements and aethestics by minimising visible cabling.
We hold PLI, PAT, and electrical safety certification but more importantly we have a rigorous attitude to safety. All of our equipment is regularly inspected and maintained and the breadth of our experience means that we are preferred suppliers in the most prestigious venues who value safe, reliable and efficient installations. We are experienced in providing large on-the-day installations under time pressure and packing down with the minimum of fuss.
Find Out More
For lots more images of our uplighting work, see our uplighting Pinterest board.
To discuss lighting ideas for your event, contact us here.